Collins Reservation
---
Features:
This downtown reservation includes a small brook, a variety of trees, remnants of an old cranberry bog, and a variety of wildlife. A marked circular trail provides access to most of the land.
History:
This property was given to AVIS in 1983 by Helen Collins Dooley in memory of her parents, Joseph Morris Collins and Margaret Scannell Collins, and her grandparents, Morris Collins and Mary Schofield Collins. At one time, the grandparents owned 25 acres of farmland along Pine Street.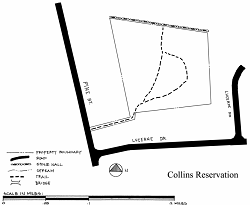 Printable Trail Guide:
Download
Live Map:
Open Here
Size:
4.6 acres
Location:
Entrance on Pine Street just south of #66. Pine Street is south off Elm Street.
Parking:
On Pine Street
Warden Information:
Jeffrey Cary
(978) 766-5263
jeffreyacary@gmail.com