Harold R. Rafton Reservation
---
Features:
The largest of the AVIS reservations. Maple, birch, oak, hickory and sassafras trees can be found in these serene woods. Tall white pines grow along the ridges and hilltops and the ski loop trail passes through lovely hemlock groves. The forest floor is carpeted with ferns, partridgeberry and teaberry. Deer, beaver, fox and numerous bird species have been observed here.
History:
Rafton is the largest of the AVIS reservations. In 1968, this property was named for Harold R. Rafton, Andover's "sturdiest conservationist." Mr. Rafton's ability to persuade landowners to sell or bequeath land to AVIS for conservation and public use is legendary. Rafton Reservation was once farmland and woodlot. Many of the old stone walls remain, evidence of this area's agricultural past. An annual winter breakfast followed by skiing or hiking through the reservation has become a modern AMC and AVIS tradition.
Deer Hunting:
Deer hunting with bow and arrow from tree stands will be allowed on this Reservation during the state bow hunting season. For more information, see here.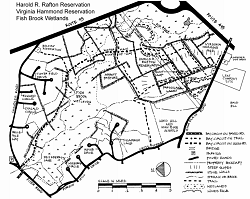 Printable Trail Guide:
Download
Live Map:
Open Here
Size:
226 acres
Location:
Between High Plain Road to the Southwest, Interstate 495 to the Southeast, and Interstate 93 on the Northeast.
Parking:
High Plain Road leaf composting area lot.
Warden Information:
Schneider Electric Group
ramona.hatch@schneider-electric.com

David Poirier
diamondpoir@yahoo.com
(978) 360-2970

Peter Vachon
ptrvachon@yahoo.com
(978) 809-9132

Kristopher Leary
kristopher.e.leary@gmail.com
(978) 852-1437