Hammond Reservation
---
Features:
The stone and earthen causeway in Hammond Reservation was originally a dam, creating an ice pond and livestock watering hole.
History:
Hammond Reservation was named for Edmond E. Hammond, a former AVIS president, and was purchased with funds provided by Edmond Hammond, Jr.
Deer Hunting:
Deer hunting with bow and arrow from tree stands will be allowed on this Reservation during the state bow hunting season. For more information, see here.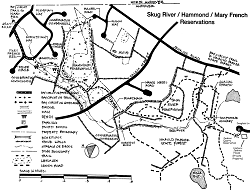 Printable Trail Guide:
Download
Live Map:
Open Here
Video
Size:
38 acres
Location:
Between Salem Street to the South and the Mary French Reservation to the North.
Parking:
Lot at Salem Street entrance to Skug Reservation. Limited parking on Rachel Road and Korinthian Way (access to Hammond through Mary French Reservation).
Warden Information:
Dennis Crispo
highpt@cliffhanger.com
(978) 858-0394